Trespa TopLab Plus may be ideal for your art and jewelry studio
Here's some project inspiration outside of the typical medical and pharmaceutical applications Hi-Temp Fabrication excels in.
Trespa Toplab PLUS was the top material choice for a recent studio project used primarily for jewelry making, including metalsmithing, enameling and fabricating.   It was an ideal selection for the top and table because of its durability, smoothness, matte finish and light color.  Its antimicrobial properties provided for an environment that prioritizes the importance of cleanliness.
Trespa was a much better alternative than natural stones such as marble or granite or even engineered stones such as quartz or formica.  The matte finish gave a much more pleasant aesthetic than a glossy stone because it does not reflect the light back into the jeweler's eyes. 
Customized Trespa Attributes
The color White was ultimately chosen since the lightness of color provided the opportunity for the operator to identify scraps of precious metals and semi-precious gemstones that can drop during the jewelry making process.
The 5/8" panel thickness was selected, as opposed to a standard 1" panel, as sturdiness and performance were more than sufficient for the application.  Further, 5/8" panels provided less material than 1" product, which drove the cost of material down, and reducing weight led to savings on freight and handling.
Last but not least, the contractors that worked with Trespa did so with ease due to its wood contents, and were able to use the available resources to aid with installation and making field modifications.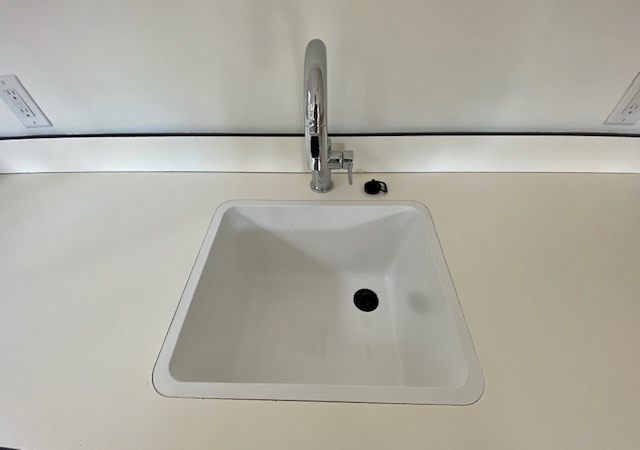 The various attributes of Trespa TopLab, along with its durability standards and unique properties make the surface material flexible and ideal for a multitude of applications, from professional laboratory grade projects to independent ventures.
Request samples or contact us to get more information on how Trespa products suit your needs.